Mavs Draft Preview

The draft has never been a go-to way for the Mavs to re-tool their team during the Dirk Nowitzki era.  Since 2001, they've only drafted one player that was on their roster for the next five years.  That one exception was Josh Howard, whom they drafted with the 29th overall pick in the 2003 draft.  Usually teams use the draft to find possible new pillars for their teams, not the Mavericks.  Bust after bust through the first decade of the 2000s has led the team to completely abandon using the draft the last several seasons in favor of free agency.  After swinging for superstars and missing as much as Dallas has in the last three offseasons, it might be time for them to really focus on making a solid pick in this year's draft.
They sit at picks 21 and 52.  Their position isn't idea for picking out the next franchise guy, but given the talent in this draft, it's the perfect spot to find a point guard to fight for the starting job in training camp or to find a solid rotation guy that will be cheap and under their control for several years.  The possibility of moving up for Dallas is unlikely as they don't have their own draft pick next year or a lot of players under contract to use as bait.  There are a ton of solid guys who could work for Dallas at 21st overall in this draft, but here are a few being commonly linked to them and their projected landing spots in mock drafts:
Point Guards
Tyus Jones, Duke.  11.8 PPG, 5.6 APG
ESPN: 20th, Bleacher Report: 21st, NBA.com: 20th
This would be a splashy pick would easily get people excited.  When you take the starting point guard from not only the reigning national champion, but Duke University as well, it's going be a high profile pick.  Jones is being projected to fall in the range that could make him a likely pick for Dallas should they stay put at 21.  After a bigtime run to the championship, it's understandable that Jones came out, but he was only a freshman last year and might still be needing a lot of time to develop.  The Mavericks are in win-now mode, so is the relatively inexperienced Jones someone they're willing to play major minutes?
Cameron Payne, Murray State.  20.2 PPG, 6.0 APG
ESPN: 12th, Bleacher Report: 23rd, NBA.com: 28th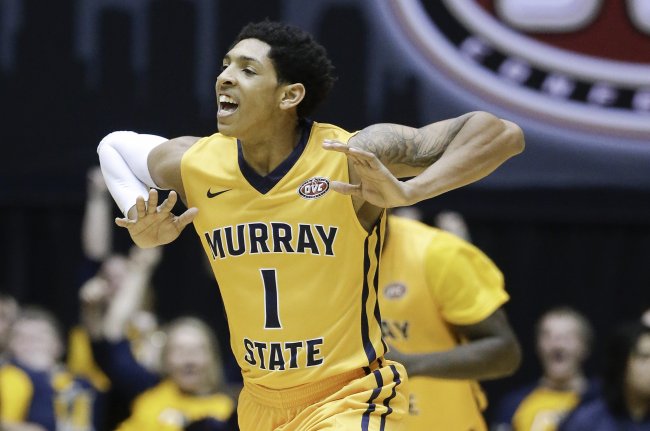 The disparity between the projected landing spots for Murray make it hard to see what kind of talent he is truly thought to be.  Interestingly enough, the average of those three projected spots (12,23 and 28) is 21.  Right where the Mavericks sit.  Payne obviously put up flashier numbers than Jones, but he also played for Murray State in the Ohio Valley Conference rather than Duke in the ACC.  According to Chad Ford on ESPN, there are a lot of people saying he's the third best point guard in the draft.  Coming from a small school in a draft filled with guys from the likes of Kentucky, Duke and Wisconsin could lead to Payne being an afterthought.
Rotation Players
R.J. Hunter, SG, Georgia State.  19.7 PPG, 4.7 APG.
ESPN: 21st, Bleacher Report: 27th, NBA.com: 29th
Hunter coming from Murray State makes him another small school guy who could slip.  Chad Ford projects Hunter going to Dallas at pick 21 but the other sites see him almost falling into the second round.  His 6-6 height is something Dallas could have really used as a backup guard on their bench last year.  Dallas had no guards over 6-3 and that was a problem defensively.  Hunter probably isn't a superstar in the making but Ford says he "could be" the next Wesley Matthews.  One of the most underrated players in the league who excels at his valuable "three and D" role for the Trail Blazers.  Matthews was someone that would have been a great signing for the Mavs this summer before he tore his Achilles late last season, so why not draft a guy with his potential?
Rondae Hollis-Jefferson, SF, Arizona.  11.2 PPG, 6.8 RPG
ESPN: 22nd, Bleacher Report: 20th, NBA.com: 19th

The 6-7 forward from Arizona is consistently being projected to fall in this mid-1st round area and he could be a great pick for Dallas.  Hollis-Jefferson is considered a great athlete with an incredible motor and the potential to be able to defend three positions, but his offense is likely to be a real struggle at the pro-level.  Can we think of another high energy small forward with outstanding defense, questionable offense and a three-level name?  If you guessed Al-Farouq Aminu, you win!  How many times last season did Mavs fans find themselves asking, "Why can't everyone play like Aminu?"  Why not draft someone whose game resembles Aminu?  You can either have two Aminu's on your bench with the ability to play both at the same time to bolster your defense, or you can have his replacement should Al-Farouq land too lucrative of an offer for the Mavs to match in free agency.
Bobby Portis, PF, Arkansas.  17.5 PPG, 8.9 RPG.
ESPN: 16th, Bleacher Report: 24th, NBA.com: 21st
Scott Howard-Cooper of NBA.com projects the Mavericks taking Portis at 21st overall in his mock draft.  Chad Ford had one GM saying of Portis: "If you're looking for a solid rotation guy with an upside as a potential starter, he's your guy."  With Dirk Nowitzki still being a capable starter and with a move to the bench in the near future, Portis could be a good guy for Dallas to plug in.  His solid rebounding skills would be a big plus for Dallas off the bench as they struggled with big men depth all of last season.  If he falls down to 21, it wouldn't be surprising to see Dallas pick up this Razorback.
While none of these guys would be a for sure slam dunk of a pick, they all seem to be solid players who could contribute in certain roles immediately.  Dallas needs to hit on this draft pick with an offseason of such uncertainty on the horizon.  The draft takes place on Thursday, June 25th at the Barclays Center in Brooklyn.
Follow me on Twitter: @DylanDuell