A Look At The Free Agents The Mavs Will Have To Let Go Or Retain This Summer

After another early playoff exit in the limelight of Dirk Nowitzki's legendary career, the Mavericks face another summer of possibly huge changes to their current roster.  With up to ten players possibly facing free agency, Dallas will have to examine each case very carefully.
Rajon Rondo, 2014-2015 salary of $12.9 million

It's always better to get the easy ones out of the way first.  The homerun swing of a trade to get Rondo turned out to be a popup that came straight down and hit the Mavericks squarely on the head.  With his visual resignation from the Mavericks appalling both the organization and fans alike during Game 2 of the Houston series, Rondo cemented that he wouldn't be back in Dallas and that he might never return to the status of an upper level point guard in the NBA.
J.J. Barea, 2014-2015 salary of $.9 million
The opening week addition of Barea was a low-risk move that sent good vibes through the locker room and Dallas fanbase with J.J. being one of the all-time fan favorites during his stint in Dallas that lasted the first five years of his career.  Barea was a solid rotation player all year and stepped up in the playoffs with averages of 12 points and 5 assists per game.  There is mutual interest between he and the Mavericks in a return.  How much of a raise did J.J. earn?
Amar'e Stoudemire, 2015 salary of $.3 million
Stoudemire was bought out of the remainder of his $20 million-plus salary in February following a miserable season and a half with New York.  Amar'e showed Dallas and the rest of the league he still has plenty to offer as he displayed the most impressive offensive post game any Dirk-era Mavs big man has ever had.  Ultimately, his lack of defense and rebounding could have played a huge role in Dallas' demise as they had no one else to go to when uber-center Tyson Chandler wasn't in the game.  Dallas should thank Amar'e for his professionalism and let him chase the elusive ring elsewhere next year.
Charlie Villanueva, 2014-2015 salary of $.9 million
Good for you, Charlie-V.  Villanueva was one of the better stories in the NBA this year as the former top-ten draft pick worked hard in training camp to earn the final spot on the Dallas roster.  After struggling to find playing time early in the season, he eventually became the first big off the bench in the final month or so of the season.  Is that a good thing?  Probably not because Charlie pulled the trigger nearly every time he caught the ball.  His high energy play likely earned him at least one more guaranteed contract in his NBA career.  He's another big for Dallas who just doesn't bring enough big man qualities.
Greg Smith, 2014-2015 salary of $.9 million
Smith rode the pine this season because he never fully took advantage of his opportunities.  When Brandan Wright was sent away in the Rondo trade, the backup center minutes were Smith's for the taking.  The results were disappointing and Smith's NBA future is likely in doubt.
Bernard James, 2015 salary of $.2 million
James was released from a guaranteed contract at the end of training camp after Charlie Villanueva beat him out for the final roster spot.  He spent the majority of the regular season playing in China for the Shanghai Sharks and was brought back on a couple of ten-day contracts in February before eventually signing on for the season.  The feel-good story behind James simply isn't enough to justify his spot on the roster.
Richard Jefferson, 2014-2015 salary of $.9 million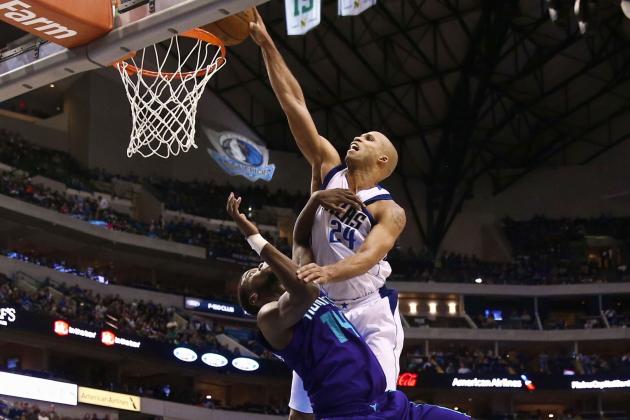 The veteran wing entered this year with most of the league forgetting he was still around after a year in Utah and ended up doing a commendable job considering the expectations most had.  He led the team in three point shooting percentage at .426% and started 18 games in place of Chandler Parsons/Dirk Nowitzki.  He wasn't outstanding, he wasn't terrible.  Jefferson was a very solid role player who Dallas should try to retain considering his likely low price tag.  Plus, the dude still has some hops.  Ask Michael Kidd-Gilchrist.
Al-Farouq Aminu, 2014-2015 salary of $1.1 million
If there is one player on this list who the Mavericks are likely desperate to keep, it's this guy.  Aminu's high energy play on defense and on the glass was absolutely tremendous for Dallas all season long.  He earned himself a raise that some team will be willing to give him.  Does Dallas have an inside edge after helping him revitalize his young but once stalling career?
Tyson Chandler, 2014-2015 salary of $14.8 million
Chandler's return to Dallas wasn't quite the fairy tale that his first tenure was.  Chandler was arguably better this time around for the Mavs while averaging a double double and finishing in the top five in the league in rebounds per game.  If Dallas is serious about trying to get a big fish like LaMarcus Aldridge or DeAndre Jordan, it will be bye bye to Chandler.  Would Dallas possibly be better served trying to retain Tyson at a slightly reduced rate and adding better rebounding and defensive help to the rest of the front line?
Monta Ellis, 2014-2015 salary of $8.4 millio

Dirk's most talented offensive sidekick ever became the number one option on offense this season.  Is that a direction any team wants to go?  It will be very difficult to acquire anyone better to take the go-to role on offense; so the best route might be developing a new one in Ellis or Parsons.  Dallas faces a difficult situation with Ellis, who has definitely earned a raise with his play the last two seasons, but it's debatable what his price should be.  He didn't exactly seem happy the last few months of the season, either.  He only spoke to the media once over the course of the last forty or so days.  Perhaps that was just related to his frustrations with his personal play more than anything having to do with the organization overall.
Those are a LOT of free agents to consider.  Some will be much easier to say yes or no to than others.  Some will be much easier to retain than others.  All of them together will make it a very difficult, yet important, offseason for the Dallas Mavericks.
Dylan Duell
Follow me on Twitter: @DylanDuell