Texans Prove They Want To Win

The Houston Texans did it Thursday. The Texans traded Brock Osweiler to the Cleveland Browns (bless their heart) and a 2018 second round pick for the Browns 4th round compensatory pick in the 2017 NFL Draft. Essentially, this was a salary dump. You can read all about the details of the deal on nfl.com Gregg Rosenthal has a great scoop on it.
This was a statement from Texans GM Rick Smith, Head Coach Bill O'Brien, and owner Bob McNair. Not only did they admit they made a huge mistake in signing Brock last off season, but most importantly, they proved that winning IS their goal. Funny statement to some, but there are a handful of NFL franchises that are more money hungry and do not have a desire to win culture from the owner. The Texans, who had sold out every home game since they opened, were viewed by people as a business oriented franchise and not a "Super Bowl Championship is our goal" franchise. Every owner can say they want to win, but if they sell out every game and they make their money regardless, some will stand idle. Not McNair. Not the Texans. Not anymore, if they ever were that way infact.
Media, fans, and sports talk shows in Houston have blasted Texan's ownership for their lack of bold moves. Blasted the franchise for its overly conservative offseasons. No more. On March 9, 2017, the Texans proved they care more about winning than they do filling the seats. This is not to say trading Brock will be seen negatively by fans, quite the contrary actually. The city of Houston is, from all accounts on social media, elated with the news. The team owned up to their mistake and should be given credit for stepping out of their comfort zone last offseason to sign Brock, and this season for trading him.
As reported by Patrick Starr, the Texans did not back Brock this whole offseason and knew they needed to make changes. Well, they certainly followed through.
In the press conference following the trade, Rick Smith said:
 "We are committed to bringing a championship to the city of Houston, we are exhaustive in our efforts and the resources provided by the McNair family allow us to operate that way. We continuously evaluate our decisions and processes to ensure the results match our goals and objectives. The decision to trade Brock was made because it was in the best interest of the team."
Words and pats on the back don't win championships though, and what the Texans do from here will define their 2017 season. Thankfully, the team is walking the walk to their championship talk. I published a Texan Mock Draft last month in what I felt they would do, this trade does not change a lot there yet. Tony Romo is available, Jay Cutler is available, and the team still has holes at offensive line, tight end, and defensive back to fill. Lots of work to do but for the Texans fans out there, enjoy the fact that this franchise DOES want to win.
Join me in pouring one out for Brock tonight and tweet me your thoughts @manfreonair or @littlezoso
Brock made things interesting, and we will never forget these Brocklights: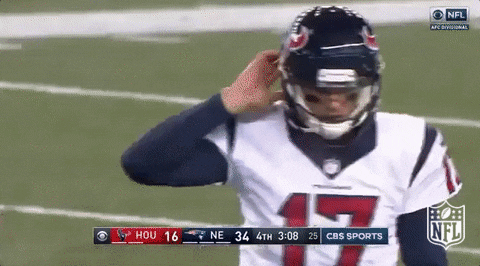 and finally, thanks to the EA Sports twitter account we get this gem: